Coco Coir Bricks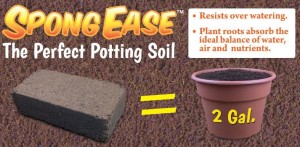 Coir Bricks are so convenient that Fibredust Introduced a new retail ready label for their coco coir bricks.  Fibredust's new "Spongease" product comes packaged for retail sale. These coir bricks  will expand to 2 full gallons of quality coco coir peat just by adding water!  Take the brick, put it in a container and just add water and watch the brick expand.  Fluff with hands or a trowel and you'll get up to 2+ gallons of potting soil!
Add a little fertilizer, work casings or your favorite compost mixture and GROW!
They are so easy to use and store, once discovered, most gardeners do not want to be without them!  Grow just about any crop including tomatoes, peppers, cucumbers, lettuce, herbs, eggplant, radishes, squash and more! Roses love coco coir, it's also great for cuttings. reptile enclosures, and worm farms.
SpongEase Bricks are quality soil-less growing media made from coconut husks. They are perfect for pots, growbags  or other containers.  They can be used alone or blend them with your favorite additives.  These coir peat bricks have the same qualities as our 5Kg coir block.  Available wrapped for resale.  Private labeling is available at container load quantities.
If you just need a few, Amazon is probably your best bet.
If you are interested in buying in resale quantities, please fill our our inquiry form.