February 14th 2017 will be forever remembered as a historic moment in FibreDust history with the dedication of it's first fiber mill for long fiber extraction. The new fiber mill " Anar Coir Pvt Ltd Unit II" was opened and dedicated by distinguished guests Mr Thomas Christ Gartner, and Mr Chad Michael Wills of The Scotts Company LLC USA.  Also In attendance were FibreDust LLC CEO Mr Sam Ahilan, Mr Satheesh Ragothaman, Director of Anar Coir,  Anar Coir Factory Manager Mr Sararthy Parasarathy, and the entire staff of Anar Coir Unit 1
The new fiber unit is conveniently located directly across the street from Anar Coir.  Mr Parasarathy, construction manager for the project,  confirmed that the construction on the fiber mill began in early 2016, with completion in January 2017.  Since the ribbon cutting and dedication, Unit II  is now in full production mode, creating the pretty blond coir fibers commonly used in upholstery, rope, rugs, mats and more. The "byproduct", plenty of coco coir pith, will be used by  Unit 1 to create the the coir growing media products that FibreDust is known for.
"The opening of the new fiber unit, Anar Coir Private Ltd Unit II was the achievement of a goal I've had for many years, to retroactively integrate a fiber unit into our blend of owned companies. This will allow us to self procure raw material for our processing purposes, increasing our control of quality and supply, " stated FibreDust CEO Sam Ahilan.  "We are happy with our new state of the art facility and excited to join the market of coir fiber suppliers."
Continuing, Mr Ahilan revealed,   "Lack of rain during the monsoon season has caused a challenging decreased coconut harvest, with smaller husks and increased husk procurement price. It has also affected well production throughout the area, causing many coir producers to be unable to wash and lower ec of their product. FibreDust and Anar Coir are committed to purchasing Low EC water as necessary, for washing all coir moving through our factories to maintain the low EC product our customers have come to expect."
While challenges may be ahead for India's Tamil Nadu coir belt, spirits and determination are high for the management and staff of FibreDust's  Anar Coir Units 1 and 2.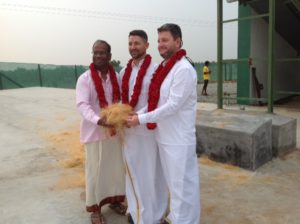 Sam Ahilan with Scotts dignitaries handle fresh coir fiber at Dedication Ceremony of new fibermill "Anar Coir Private Ltd Unit II"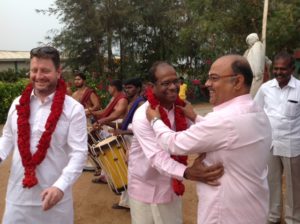 Congratulations and celebration at dedication of FibreDust's new fiber unit.