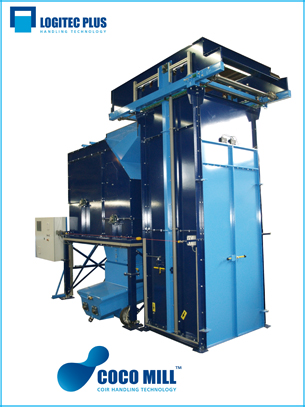 CM-200
Coco Mill Cm-200
The automated CM-200 can take full pallets of coir block and reconstitute them all easily. Blocks are shoved off the pallet and into a hopper which adds the precise amount of water necessary to restore the coir to a usable state. There is not water waste or mess. The reconstituted coir leaves the the Coco Mill by conveyor.
Advantages of The Logitec Coco Mill:
Product can be loaded directly from the shipping pallet, therefore less risk of cross-contamination or diseases.
Machine can be used indoors, which allows production to continue in any weather.
Material is moisturized before being loosened which helps maintain the structure of the coir material.
Can be used for all types of Coir Blocks.
No dust forming.
Low water usage by recycling back into the mill.
The Coir processing line can be operated with one person.
Possibillity to add additives to the coir and mix inline using Logitec's soil mixing components.
Full Service, parts and support available within North America.