Shopping for warehouse property can be a tedious chore involving hours of time traveling, inspecting and kicking tires on potential properties.  The Cromwell property however, stood out for FibreDust CEO Sam Ahilan and what made it stand out was it's attached greenhouse.   The 55,000 SF  warehouse  provides plenty of space for warehousing and production.  But,  the existence of the greenhouse added a whole new dimension to how FibreDust's new home could serve customers and the community.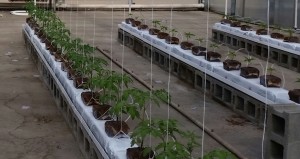 While remodeling is still underway in the main warehouse and office areas, the greenhouse at the Cromwell facility was the first completed task. Windows on the roof open and close on thermostat demand. Shade cloth automatically extends to shroud the growling area at the peak of sunlight, protecting crops from too much sun. It withdraws as the sun's intensity wanes.   Fertigation is in place, feeding three nutrient solutions to hungry plants. The drip emitters are installed   Tomatoes, cucumbers, peppers and strawberries are already planted and growing in grow cubes placed on top of  FibreDust's  hydroponic coir grow bags. and all climbing crops are growing up their strings right on schedule!   The only thing missing right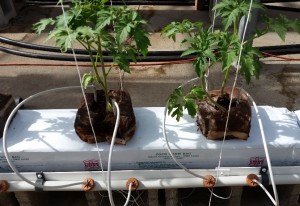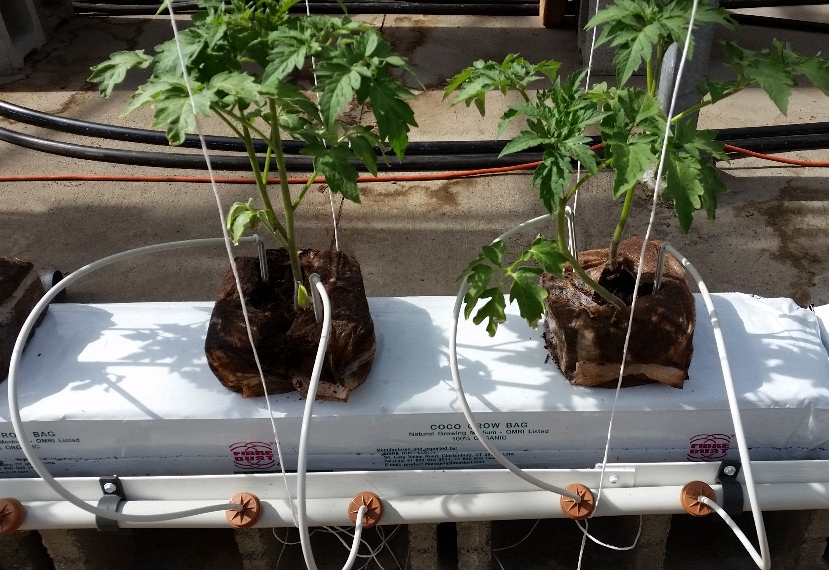 now is the  hydroponic floating lettuce raft system that is currently under construction.  FibreDust intends the greenhouse to be used for research and development as well as training for prospective hydroponic farmers.  The crops will be donated and FibreDust is currently seeking  a local food bank,  shelter, or other program,  who can use the produce to feed hungry people.
While not huge at 60 x 100 the greenhouse is presently planted with 60 tomatoes, 60 pepper plants and 30 cucumbers.  All of these are indeterminate varieties that will grow clipped onto strings that extend 10 feet up from the plant.  As harvests are made,  each plant is un-clipped from its string, the vine wrapped around the grow bag, and the living end re attached to the string it to grow up again.  This process will be repeated 4 times for 4 separate harvests per plant.
Bare root ever-bearing strawberry plants were planted  into grow bags as well.  At the time this article was written they'd just been placed into their grow bags, 6 plants per bag.  They are located on a separate irrigation fertigation zone as they require different nutrients to thrive.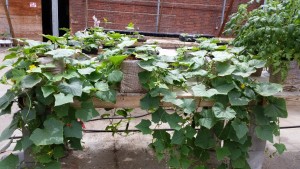 City Garden growbags are planted on the bench and are proving the concept of the complete garden.  Tomatoes and cucmber grow bags are putting on a show, bloomiing avidly and coming together with real cropping potential.
Future plans include the possibility of adding mushroom cultivation and worm farm production.  The real value to many will be the training classes FibreDust will offer to aspiring hydroponic farmers.  The greenhouse is large enough to be effective with the most common cash crops, but not so large that it's overwhelming to a new farmer.  A lot of food can be gown in this amount of space and smaller growing spaces make it affordable for small scale farmers to get started growing cash crops.  Making a living with a 3300 Square foot Greenhouse is an article about a FibreDust customer who does just that!
Having the greenhouse right there on the property, as part of the warehouse, is a pleasant spot to take a break from  warehouse work.  Just walking into this  warm sunny area full of healthy growing plants is not only a stress reliever, it reminds all that FibreDust is dedicated to successful growing, healthy food,  conservation and  sustainability world wide.