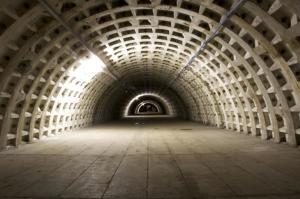 You wouldn't think of abandoned buildings, rooftops, parking garages, and subways as typical locations for farming activity, but the buy fresh, buy local movement is strong and as a business, hydroponic farms are sprouting up where you'd least expect them. Chicago Ohare Airport is growing it's own fresh produce. Not far from the airport a 90,000 sf rooftop is producing mountains of fresh lettuce, herbs and greens.  A World War II bunker in the UK will soon be the site of an expansive hydroponic urban farm and   ZeroCarbonFood  is working hard to make it come together. Utilization of these empty unlikely places for food production changes the whole definition of a farm.
With world populations skyrocketing and density concentrated in urban areas, growing food for those living in city centers can be accomplished with less space, and use less water than traditional farms if the growing is hydroponic and vertical. Mark Thomann, CEO of FarmedHere, the operator of the roof top production mentioned above, says he can grow 200 percent more produce per square foot than traditional farming and do it without the use of chemical fertilizers.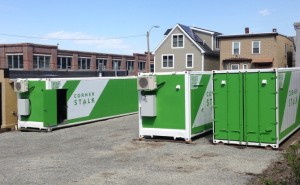 Vertical farming practices translate pretty well to specially equipped  shipping containers too.  Freight Farms specializes in outfitting shipping containers for growing "hyper local" produce. They call their system the Leafy Green Machine and offer complete hyper-growing systems as a product for wannabe hyper local farmers. These containers are completely climate controlled and can grow vegetables year round with their unique system that utilizes rack type "Zip Grow" vertical towers created by Bright Agrotech.
For more info, check out what's growing on in the links above!