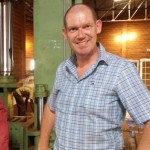 Fibredust LLC, global leader in coconut coir production, with home office located in Connecticut US,  is pleased to announce the appointment of Geerten Van Eldik as Marketing and Product Development Manager for FibreDust Europe BV and Fibredust Spain SL.  He will also work closely with FibreDust subsidiaries located in India and Sri Lanka.
Mr Van Eldik brings 25 plus years of experienced in:
* Business Development
* Quality Assurance Management
* Product Development
* People Management (HRM)
He is a product specialist in growing media, Coco substrate manufacturing and production, Coco Potting mixes,  and compressed coco coir for the consumer home market .