Fibredust's Coco Coir Block 5kg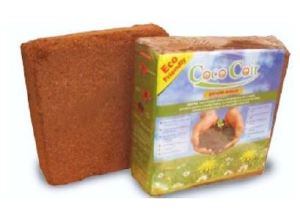 FibreDust's 5KG 100% Coco Coir Peat Block is a staple in the coco coir industry and  a primary growing media for agriculture and horticulture. Coir, or as it's often called "coco peat," is made from the husks of coconuts and as such is a renewable resource for growing and gardening. FibreDust  manufactures and exports coco coir from our own factories in India and Sri Lanka. FibreDust Coir is used in many well known  popular potting mixes sold in retail garden and big box stores everywhere.
Coco coir is also used for reptile bedding, worm farming, and mushroom cultivation
Coir: Eco-Friendly, Sustainable, Organic
In Agriculture, coco coir pith or "coco peat"  is used extensively for growing  tomatoes, cucumbers, eggplant, strawberries, blueberries, peppers and cannabis. It is a great fit for hydroponic and traditional growing methods.   FibreDust 5 kg coir blocks are available either pre-wrapped for retail sale or unwrapped for agricultural or horticulture use, FibreDust's 5Kg (11lb) blocks of coco peat have a 5:1 compression ratio. Each block re-hydrates to approximately 2.5 cu ft or 15 gallons (60-65 litres)  of "soiless"  growing medium.
Coir blocks measure 30x30x12cm (12x12x6in)
Water holding capacity 7-8 times
Air Filled Porosity 10-12%
Electrical Conductivity  <.8
pH 5.8 to 6.8
OMRI Listed
Pallet qty  200
Pallet wt   1 metric ton
Load Capacity 40′ HC 20 pallets, 20 MT, 4000 blocks
Available buffered with Calcium Nitrate reducing EC to <.5 (not OMRI listed)
FiberDust can provide custom blended 5 kg coir blocks with varying ratios of coir pith to fiber chips to increase drainage, and oxygen levels. Need a custom blend that works for you?  Ask about our custom blending services.
F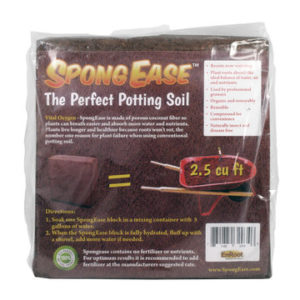 or quotes on container quantities, or LTL please use the inquiry form to the right.
If you want to get a few blocks for home gardening projects, please visit our retail website EnrootProducts.com  Our coir is sold under our "Spongease" product name.
Fibredust produces our coir in our own factories located in the coir belt of Southern India in the state of Tamil Nadu and in Sri Lanka. Our production capabilty is vast and allows us to ship thousands of containers per year. If you'd like to learn more about our factory operations, please see our article about our Anar Coir Factory in Pollachi
Urban Oasis Organic Farm in Tampa Florida
Dave and Cathy Hume, owners of Urban Oasis Hydroponic Farm swear by Fibredust's coir.  All of the organic produce they grow and sell at their vertical farm grows in a blend of coir peat and perlite.  Using a stacking tower type grow system, liquid nutrients are fed to each tower via a drip system, producing beautiful lettuce, strawberries, kale, beets, onions and more.  If you are in the Tampa Bay Area, stop by and  check out this  working hydroponic farm. You can pick up some produce too!  They can also set you up with your own backyard growing system so that you can enjoy your own farm to table produce.