Tom March admits it right out loud.." I hate weeds!" So instead of bathing his crop rows with with herbicides on his 150 acre March Farm in Bethlehem Ct, he's beaten weeds by laying weed barrier and growing his crops in grow bags.   While it's not uncommon to see grow bags used in a greenhouse setting, Tom likes the way he can control his growing environment both inside and out, with grow bags filled with coco coir peat growing media.
Outside, Tom grows strawberries, green beans, broccoli, summer squash, collards and Swiss chard in grow bags. Inside  his 35,000 SF open-sided greenhouses, he grows tomatoes, English cucumbers, lettuce, herbs,  and plants mounds of sweet allysum  to attract good insects that will devour the bad.  With 5 years experience with grow bags on the March farm, Tom has found that his yields are better using grow bags because he has more control over the growing environment.
Grow bags with coco coir peat help farmers control their crops  in several ways.  There is no need to till or mix soils.  The coir is sterile in the bag which means no soil viruses, no fungus, and no undesirable insects.  The crop is also elevated from the ground which reduces the encroachment of crawling insects.  March Farms learned that weeds and the undesirable insects they may attract are no longer a factor.  The overall operation is cleaner too.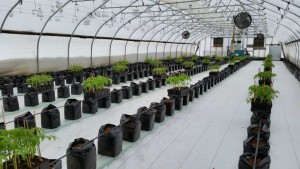 Drip irrigation is used to maximize water use. Grow bags are placed at intervals that are compatible with the irrigation drip lines.  Integrated Pest Management, an effective and environmentally sensitive approach to pest management, is used throughout the farm.  While March Farms is not a certified organic farm, many of the crops are grown completely chemical free. The produce is meticulously maintained which lowers the risk of disease & infection.  Growing areas are kept in immaculate condition – no weeds are allowed to grow that can harbor pest insects & no plant material/pruning's are left behind that can harbor disease.  Greenhouses are environmentally controlled, in terms of heating, cooling and humidity to create the ideal growing environment for the plants.  Many diseases thrive in high humidity conditions and the ability to control this factor decreases risk.  Beneficial insects are released on a weekly basis to keep pest pressure in check and to perform important jobs like pollination.
This year, March Farms is celebrating their 100 year anniversary of family farming in the rolling hills of  Litchfield County Connecticut. Tom and Susan March have operated the farm since 1972. They have a successful CSA and grow everything from apples to zucchini.  In just about all seasons, there is a crop waiting to be picked.  In addition to u-pick berries, peaches, apples, pumpkins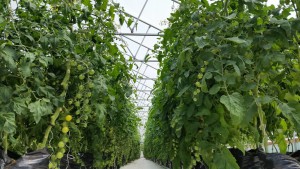 and corn, their grounds are open 7 days a week, to the public for folks to enjoy their Farm Store, Hayloft Playscape, Pond Side Animal Yard, Farm Hiking Trails,  seasonal Hayrides, Corn Mazes & Harvest Festivals.
Tom says that the tomatoes this year are amazing, plants are already 8 feet tall and loaded with fruit.  They will be heading into CSA baskets by the end of June.  Tom and Sue have a great website and a very active Facebook page with lots of great pictures of their growing operation.
For more information setting up your own farm with grow bags, please visit our grow bag product page here.